---
K3MSB

My History in Amateur Radio
---
| | | |
| --- | --- | --- |
| | I became interested in radios during the CB craze of the early 1970s and started studying for my Novice license in 1973. It was with no small amount of trepidation that I rode my bicycle (I was too young for a driver's license) to the Perrysville Elemtary School north of Pittsburgh in July or August of 1973. My elmer Milt Moratis W3XX (ex K3AMI), principal of the school, administered the exam. My Novice license arrived in September! | |
| | By Thanksgiving 1973 my parents relented and permitted me to get some ham gear. I ended up with a B&W 5100B transmitter and a Hallicrafters SX-111 receiver -- it was indeed a Happy Thanksgiving! An outdoor antenna would have to wait for early 1974 -- "Gee Dad, I wouldn't interfere with the TV if I had a real antenna outside...." In theory anyway. | |
| | The B&W 5100B was purchased from Ed Lipps W3BWU (SK) at Tydings Electronics on Liberty Avenue in Pittsburgh and the SX-111 was acquired from Ray "Woody" Woodall W3HQW (SK) in Arnold PA. | |
| | Within a year I got my General license then progressed to Advanced and finally Amateur Extra around 1977. | |
| | Back then, all exams were administered by the FCC when they came to town. As I recall they administered exams quarterly at the Federal Building in downtown Pittsburgh, which is where I took my General, Advanced, and Extra exams. | |
| | By 1977 I was in college and working during the summer. For whatever reason I didn't think I would be able to take the Extra exam on the date the FCC would next be in Pittsburgh, so after much effort I convinced my parents to let me drive the sole family car to Erie PA to take the exam at an earlier date. I left early on the exam day and sat in the parking garage doing some last minute studying. Shortly before the appointed hour, I went to the test room only to find I was thirty minutes late! Pleading my case fell upon deaf federal ears so I went home sorely disapointed, and ended up taking the exam in Pittsburgh when the FCC next came to town. | |
| | What follows is awards, membership certificates, etc that you may find interesting. Click on any image for a larger one (if one is there.....). | |
QSL Cards Through The Years
WN3VJL
Sept 1973 to 1974
Pittsburgh PA.

To say the least, I was not thrilled with how this QSL looked.
It was based upon a slide I got from WIIC, the old NBC affiliate in Pittsburgh.
WA3VJL
1974 to 1977
Pittsburgh PA.

Changed printers! I received a lot of nice comments about this QSL card.
AC3C
Pittsburgh PA (1977-1982)
Dallas TX (1982-1986)

My Extra Class call.
NV9B
Fort Wayne, IN (1986-1992)
Leechburg PA. (1992-1999)

The sexist aircraft ever! The Lockheed Constellation.
K3ZX
1999 to 2004
Airville, PA.

K3MSB
2004 to Present
Airvile, PA.

My old steed.... a 1948 Cessna 170A.
Based at McVille Airport (P37) near Ford City PA in the 1990's.
Tail draggers and grass airstrips -- the way aviation was meant to be enjoyed!
Pittsburgh Radio Clubs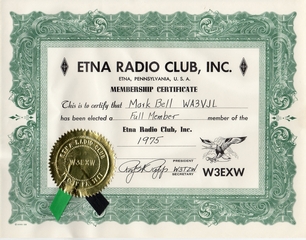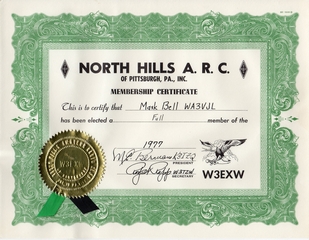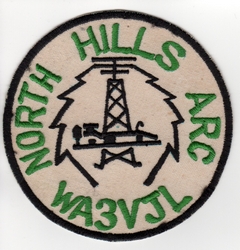 As I recall, the Etna Radio club disolved shortly after 1975. It either merged with, or became, the North Hills Amateur Radio Club.
Breeze-Shooters Net Award


| | | |
| --- | --- | --- |
| | | |
| | The Breeze Shooters Net award was given to those that could work 10 stations on 10 Meter Phone without interfering with TV reception on channel 2 (KDKA Pittsburgh PA) and 6 (WJAC Johnstown PA). My logbook shows A3 as the emission type which is good old AM ! | |
Dayton Hamvention (1975 & 1977)


| | | |
| --- | --- | --- |
| | | |
| | Dayton...nice to visit every 10 years or so...... | |
Worked All States Award (1975)


| | | |
| --- | --- | --- |
| | | |
| | All 50 states worked on CW with a B&W 5100B transmitter, Hallicrafters SX-111 receiver, and a Lafayette Electronics straight key! | |
ARRL Bicentenial Celebration Contest Award (1976)


| | | |
| --- | --- | --- |
| | | |
| | This was a special contest to celebrate America's 200th birthday. Try as I did, I was not able to work all 50 states in that contest, but I did make 200 QSOs! During 1976 the FCC allowed radio amateurs to use special comemerative prefixes. Since my call WA3VJL began with "WA", I was allowed to sign "AA3VJL" | |
Johnstown Flood Public Service Award (1977)


My girlfriend at that time was a nursing student; we spent several days at one of the hospitals in Johnstown PA after the flood waters started to receed. Our amateur radio setup (just a 2 Meter FM radio) was the only communications means in to and out of of the hospital. I handled the more mundane traffic while she handled the medical related traffic.

What I remember most about those several days was the smell of drying mud. It was brown, it was everywhere, and it smelled.

Shack Photos Through The Years
Fall 1987
Fort Wayne IN.

Nov. 1990
Fort Wayne IN.

My 1st computer in the shack! An IBM-PC-XT with monochrome monitor.

To the left of the operating positing, out of the photo, is a 132 character wide dot-matrix printer.

This photo was during a contest weekend, as the Kenwood transceiver and MFJ tuner belonged to my contesting buddy N3MC.
Feb. 2000
Airville PA.




My HT-37 and SX-111.....
Dec. 2002
Airville PA.





Here's a pair of photos of the K3ZX shack between Christmas and New Years 2002. My friend Marcus KB9MW is at the helm early one mornning on 10M AM and was delighted to work G3YPZ!

Plate Modulated AM - "What's in your wallet?"

I met Marcus when I joined Texas Instruments in Lewisville TX in 1982. We both learned to fly around the same time and subsequently spent many delightful and memorable hours flying around Texas and landing where there was someplace good to eat or something interesting to look at -- and that meant most anything with radial engines, the more the better.....

Sep 2008
Airville PA.




Me operating my HT-37 and SX-111 in the Fall Classic Exchange (CX).
Jan. 2013
Airville PA.




Ken N3CU at the helm!
Oct. 2013
Airville PA.




20 and 40M CW PA QSO Party bonus station for W3ZGD
Jan. 2015
Airville PA.




The shack is really never this neat.... I sold the King Conversions 6M amplifier and my 5 element 6M yagi shortly after this photo was taken.
Jun. 2015
Airville PA.




Marcus KB9MW Inspecting the SCR-274N system.
Copyright © 2018 by Mark S. Bell All Rights Reserved